TMC's first international conference "Moroccan Cinema Uncut: Local Perspectives, Transnational Dialogues" (Marrakech, 4-7 December 2016) kicked off with warm words of welcome by Principal Investigator Will Higbee (University of Exeter) and Co-investigator Florence Martin (Goucher College). They welcomed all the delegates, who have travelled from different parts of the world to give papers, keynote addresses and attend the Marrakech International Film Festival (2-10 December). Will also thanked the Arts and Humanities Research Council (AHRC) for making this conference and project possible in the first place. The Centre Cinématographique Marocain (CCM) and its director Sarim Fassi-Fihri were also thanked for their help.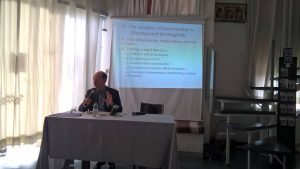 The conference kicked off with a keynote address by Kevin Dwyer, an established anthropologist and specialist of Moroccan cinema and Maghrebi media cultures. Dwyer surveyed the landscape of documentary production in Morocco and Tunisia. He started by revealing his own personal and scholarly journey as an anthropologist of rural Morocco and human rights activism. This trajectory has led him to work on Moroccan cinema over the last twenty years. After a discussion of key questions around the difficulty of defining documentary due to its immense diversity and limitless subject focus, Dwyer argued that the documentary is gaining in visibility and influence in both Tunisia and Morocco despite enormous political and financial obstacles as well as considerable challenges in relation to distribution. The 2011 uprisings have helped documentary filmmaking to gain new momentum due to its urgency and immediacy.
In Morocco, the CCM has supported documentary filmmaking from the country's independence in 1956. Most Moroccan films until the 1980s were largely shorts, made in the service of nation-building. CCM support continues today through financial aid to filmmakers every year in spite of the prominence of feature films among CCM-funded and internationally co-produced films. The institution has also supported documentary film festivals in Morocco such as FIDADOC in Agadir. The second public TV channel 2M has also supported the Moroccan documentary through production support and granting documentaries prime time on television. However, the institutional support for the Moroccan documentary remains insufficient, and documentary filmmakers have often complained about not feeling supported to the same extent as those making feature films. Dwyer also pointed out the existence of Moroccan documentaries produced outside the CCM and 2M circuits. For example, Guerilla Cinema has produced many online-distributed films by Nadir Bouhmouch in recent years.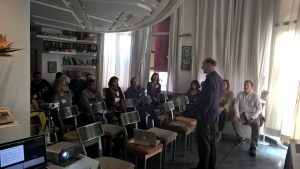 Moroccan and Tunisian documentary films have also faced problems such as legal issues in the case of Mohamed Ulad Muhand's Hercule contre Hermès (هرقل ضد هيرمس, Morocco 2012) and Nadia El Fani's Laïcité Inch'Allah! (اللائكية، إن شاء الله!, Tunisia 2011). Dwyer also dwelt on similar problems faced by documentary filmmakers and anthropologists such as the delicate issue of how both relate to the subject of their inquiry. This relationship poses many ethical questions and can lead to censorship in various cases.
The Q&A session following the first keynote address pushed the discussion in new directions such as the emergence and role of a powerful player like Al Jazeera Documentary. This Qatari TV channel has sponsored and screened ever-larger numbers of Maghrebi documentary films or international productions on the Maghreb. Other comments and questions drew attention to the rise of transnational Moroccan-Israeli documentaries, which focus on the history and present of Moroccan Jews in Israel, Morocco and beyond.
The first panel of day 1 consisted of a paper by Abdelaziz Amraoui (Cadi Ayyad University, Safi). He dwelt on the attractive nature of Morocco to international filmmakers. This movement started almost at the same time that cinema was invented in the late 19th century. Amaraoui focused on how these films willingly and unwillingly have led to what he calls cine-tourism in Morocco. Many international tourists come to Morocco to visit, among others, film locations and sets especially in Ouarzazate, which is often called the African Hollywood. Internationally renowned films like Lawrence of Arabia (1962) and Babel (2006) were partly or entirely made in Ouarzazate. However, the Moroccan tourism ministry does not seem to care about such tourism. A lot remains to be done to cash in on this desire by organising themed visits and other film-focused trips for national and international (film) tourists.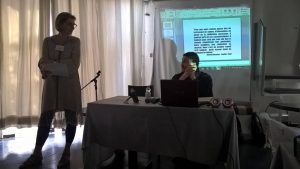 The afternoon session of the conference started with a keynote address by Hamid Aidouni (Université Abdelmalek Saadi, Tetouan). He started with some general remarks about Moroccan cinema in which he tried to debunk some myths about some films and filmmakers. He dwelt mostly on the films of Ahmed Bouanani (1938-2011), one of the most famous and experimental Moroccan film directors despite the large interest he has generated in recent years. Aidouni borrowed Ali Safi's phrase "Bouanani School" in Moroccan cinema. Bouanani was a unique filmmaker and talented artist and poet. His films like Mémoire 14 (1971) and Mirage (1979) are revered among large sections of Moroccan film scholars. They are visual poems. Aidouni showed clips from some Bouanani works. He also played clips from Mohamed Afifi's equally experimental documentary Retour en Agadir (1967). It was filmed not long after the Agadir earthquake in 1960. Afifi and Bouanani are two of the great fathers of Moroccan cinema whom new generations of filmmakers have yet to kill for this (trans)national cinema to be reborn.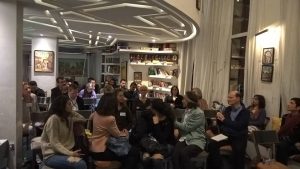 The conference's last panel today was devoted to women in Moroccan cinema. The first speaker Nadir Bouhmouch (Moroccan filmmaker and activist) focused on what he called the "male condition" in Moroccan cinema. He read many Moroccan films through the lens of gender, class and ideology in "the New Urban Cinema" (NUC, Bahmad 2012, 2013). NUC was taken to task by Bouhmouch for its negligence of female characters despite its claim to social realism. He argued that these films focus on male characters, particularly degenerate patriarchs. The next paper by Zakia Salime (Rutgers University) analysed two documentary films on Moroccan youth cultures and women's suffering and resistance in a patriarchal society. Farida Benlyazid's Casanayda (2007) chronicles the renaissance of Moroccan youth cultures in music, lifestyle and cultural life in the 2000s. The film focuses on the city of Casablanca where Morocco's first and largest urban music festival L'Boulevard takes place every year until 2016 when financial issues forced the organisers to cancel this year's edition while working on new ways to finance the festival and guarantee its future. Hind Bensari's documentary 475: Trêve de silence (2013) gives voice to many female victims of the infamous and even since amended Article 475 in Moroccan criminal law which allowed rapists to marry their victims so as to escape justice. The film also brings in some legal scholars who reveal the dark side of this law inherited from the colonial period. Said Chemlal presented the last paper on the panel and dwelt on the representation of Amazigh women in Najis Nejjar's feature film Alen Zwanin / Dry Eyes (2003). This controversial film foregrounds the suffering of women in a remote village in the Moroccan Middle Atlas mountains. The film explicitly and sometimes unwittingly reveals the long suffering and marginalization of Amazigh people in their homeland.
The conference attracted a great deal of interest from Moroccan and other media outlets that are in Marrakech to cover the film festival, the largest of its kind in Morocco and the region. Dr Jamal Bahmad, one of the TMC team members, was interviewed for 20 minutes by Moroccan national radio this evening. This and other media will continue to cover our conference with more interviews and news stories due over the next few days. Stay tuned!
Jamal Bahmad