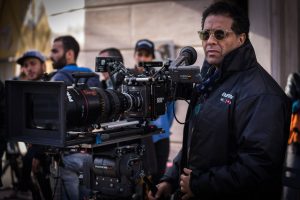 Lakhmari's Burnout has just been released in Morocco and it is quite an event! It came out on October 11 in the major cities (where there are still movie theaters…).
When I saw Noureddine Lakhmari in Tangier briefly the week before, he had told me how Moroccan cinema was not what Moroccan tourism was about: "it is not about the food, the tiles, the camels – have you seen many camels around here?… it is about a reality people can relate to, a daily life they know, an urban landscape they can identify, not a cleaned up, orientalist version of themselves."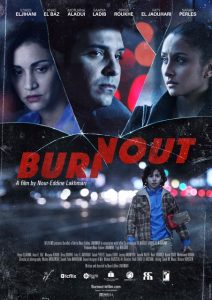 Then I saw Burnout, the last part of his trilogy after Casanegra (2009) and Zero (2012). Again, the Casablancais are the focus of this film, but, rather than showing them in a ghettoized fashion, along separate destinies, Lakhmari decides to have them cross one another's paths. Although some critics in Morocco have marveled at how lushly the white city is portrayed, I tend to disagree: Casablanca is shot mostly in interiors, and/or mostly at night, as the camera follows the various characters whose itineraries intersect. The film is not about Casablanca's wide cityscape but rather focuses on the pointed intersections Casablanca may provide for people from the top 1% (Ines, the manager of an art gallery and her husband Jad; a rich artist; a corrupt politician on the Islamist side of the spectrum) to bump into the shrinking middle-class (a student in medical school struggling to make ends meet) and the poor class of the street shoe shiners (a motley crew of kids hired by a man in love with a one-legged woman who can never find work).
If it is about Casablanca, then it is about how the economical capital of Morocco allows its infinitely socially layered population to circulate and at times bump into one another. As a result, unpredictable encounters can happen in the city, some of them violent (the student and the politician, a kid and his so-called "uncle"), some of them magical. Among the latter, Ayoub, the shoeshine boy (played by Ilyas el Jihani, L'Orchestre des aveugles, Mohamed Mouftakir, 2015) meets Jad, the rich man whose father frustrated his dream of becoming a car racer.
These uneasy temporary joining of characters are filmed straight on, resulting in drama or humor (there is a bitter-sweet hilarious scene in a restaurant where the waiter describes the menu in perfect Nouvelle Cuisine French to a befuddled, darija-speaking audience of first-timers used to entirely different food and places). The image is sleek, very clear, the close ups on Jad's facial scar, on the shoeshine boys' dirty skin and clothes, on a beggar's nails black with grime are detailed, almost hyper-realistic. Lakhmari is clearly intent on showing us the gaping differences between people sharing the same spot with ruthless clarity and from as close up as possible: this is not a view from afar. As a result, we, as viewers, do not experience a panoramic view of the city from a protected moucharabieh: we can almost smell the urine and the sweat in the slums, and we feel the pain of Aida as she screams.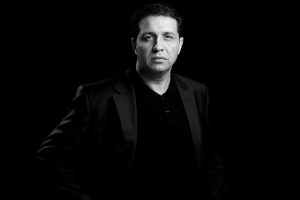 Some of Lakhmari's themes and images from the previous two films are still present here: women are tough; men are violent, abusive; there is yet another impotent man (this time not old but middle-aged) and the character is slowly becoming crippled. This time, however, he will not die during the filmic narrative…
Obviously, Lakhmari does not want to hide his truth and does not want Moroccans to be tourists in their own landscape. Yet, in the end, you leave the theater with the laughter of Ayoub and Jad in your ears – perhaps a sliver of hope.
Florence Martin