Call-and-Response: A Masterclass on Moroccan Music Documentaries
Florence Martin gives an introduction to musical and filmic call-and-response, to the musical wealth of distinct Moroccan traditions in sacred, folk and learned music (from the Amazigh oral traditions, to the Jewish, Gnawas, Andalousian strands all the way to today's rap), and a panorama of the 'tradition' of musical documentaries of North Africa. She is be assisted by musician Omar Afif, who illustrates some of the musical genres.
Q&A with documentary producer and filmmaker Izza Génini and the director of Trances, Ahmed El Maanouni. Sunday 29 October, 2:30 – 5pm at DanceBase, Grassmarket in Edinburgh.
This is an exciting opportunity not only to learn more about Moroccan music and Moroccan documentaries, but also a chance to see producer and director together, talking about their love for a legendary band! A fully illustrated report of the day can be found here!
+
Screening of Aïta (Izza Génini) + Trances (Ahmed el Maanouni) as part of the Lost Classics project run by Africa in Motion Film Festival. 6pm at Filmhouse, Lothian Road, Edinburgh.
Aïta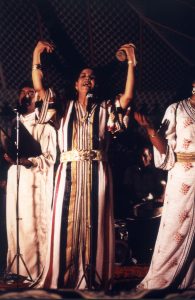 Performed by the cheikhat, nomadic female musicians, the Aïta is the cry that becomes a song, a song that is transformed into a call; a cry of pain, the Aïta is also a call for love and hope, performed by the amazing Fanta Bent El Hocine and her company Oulad Aguida.
Izza Génini first produced Trances by Ahmed el Maanouni, as she was one of the early followers and fans of Nass el Ghiwane. The experience of working with the band and the director transformed her into a director of documentaries as well, as she became Morocco's pioneering documentary maker, always focusing on its transnational musical heritage. Being of jewish heritage herself, she sees Morocco as an inherently diverse place, and she has continued to show her country of birth in that light of cultural, social and political wealth. Her project Marocorama encompasses her love for Moroccan music, and her films can be checked out on her website, here.
Trances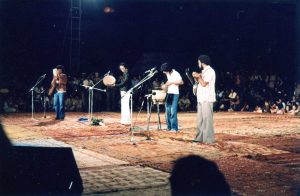 Since the 1970s, Morocco has experienced a musical explosion that was for the young people of those days the cry of their desires, of their frustrations and their revolt. This was embodied by the legendary group Nass el Ghiwane, who decided to break with the Oriental languor.
The beloved Moroccan band Nass El Ghiwane is the dynamic subject of this captivating musical documentary. Storytellers through song, with connections to political theater, the band became an international sensation (Western music critics have often referred to them as "the Rolling Stones of North Africa") thanks to their political lyrics and sublime, fully acoustic sound, which draws on the Moroccan trance music tradition. Both a concert movie and a free-form audiovisual experiment, Ahmed El Maânouni's Trances is cinematic poetry.
The restoration of Transes was organised by Martin Scorsese's Film Foundation, and used the original 16mm camera and sound negative provided by producer Izza Génini. The camera negative was restored both photochemically and digitally and blown-up to 35mm format. The sound negative was restored to Dolby SR and digital. Restored in 2007 by Cineteca di Bologna/L'Immagine Ritrovata laboratory, in association with The Film Foundation's World Cinema Project, Ahmed El-Maanouni, and Izza Genini. Restoration funded by Armani, Cartier, Qatar Airways and Qatar Museum Authority.
Place: DanceBase and Filmhouse cinema, in Edinburgh
Time: Sunday 29 October 2017