This documentary has haunted me ever since I saw it at the National Film Festival in Tangier in late February. Who is Raja? Is it Jacques Doillon's protagonist (in his film Raja, 2003), played by Najat Benssalem, whose brilliant performance earned her two awards for best actress in Venice and in Marrakesh? Is it "the daughter of the old district" of Marrakesh, a poor section of town where she barely survives? El Jaouhary deploys his narrative between these two identities.
The film opens under the limelight of the Marrakesh International Film Festival: the young actress is called to the stage to receive her award and does not show up. We are told that Najat has been caught in one of those epic traffic jams. A young French female producer even adds that it is so like Najat to be late…
The camera flips to Najat who has arrived, but without an invitation, most probably because she has not received it – she was sent one but her address keeps changing. She lives a life off the grid in all senses of the term. Hence Najat is standing outside the Palais des Congrès, unable to produce the required invitation, and the guards do not let her in. Since then, every December, Najat goes to the Palais des Congrès and tries to get in the world of cinema she was briefly part of, and in which she craves to be. Yet the same story repeats itself in a depressing loop: she cannot get in. As the documentary proceeds, several readings of her exclusion emerge: a racist one, a classist one, a gross injustice, bad luck. Even her male co-star in Raja, Paul Grégory, evokes mektoub: "it was not her destiny" to be part of the Festival!…
The narrative of the documentary sits gingerly at the confluence of old fairy tales and a new spin on neo-realist cinema. A destitute young woman in the old city of Marrakesh is suddenly chosen to play a role in a French film. She lives an enchanted life during the shoot, becomes a recognized star, to then return to her former place and status. The magic of cinema does not have the power of a good old fairy godmother: the ball is short-lived. Cinderella remains Cinderella.
This is almost a moral tale: when a poor young Moroccan inner-city woman whose destiny is not to become a movie star actually becomes one, she is denied access to the limelight.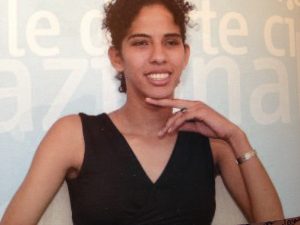 It is the story of a transformation that goes awry – literally, physically so. At the beginning of the film, Najat looks like Raja: a slim young woman who, equipped with boxing gloves, earns a meager living by wrestling with customers on the Jemaa el Fna square in Marrakesh. As she walks around the city in pants and T-shirt, she exudes an austere, almost androgynous kind of beauty, her body limb and lithe. Some cinema people interviewed in the film say she cannot find a part in any of the films that are produced on site because her body does not fit the Moroccan standard of feminine voluptuous beauty. Two years later, she has ballooned up and no longer resembles Raja, her former image on screen. She survives by selling individual cigarettes to passers-by, and adds layers of strange-looking clothes in the winter to keep herself warm. In the end, she looks like an odd, overgrown child in a pair of warm garish pink pyjamas walking around Jemaa el Fna, offering cigarettes to strangers…
Najat was in attendance at the festival in Tangier, in her new large body, her eyes blinking under the flashes of cameras as she exited the film projection at the Roxy Theater. I wondered whether we would see her next December in Marrakesh around the Palais des Congrès where she returns like a moth attracted to a ruthless burning light.
Florence Martin