A Door to the sky (1989) is a key critically acclaimed film by Morocco's pioneering female director, Farida Benlyazid, that explores questions of spiritualty, Islam and re-connecting with a traditional Moroccan cultural heritage from a transnational feminist perspective. Despite the film's clear significance to a history of Moroccan (and indeed Arab and African) cinema, for the longest time no copy of A Door to the Sky was available in English, with only a poor quality version (subtitled in French) in the archive of the Bibliothèque National (BNF) in Paris. No copy is was available in any format for distribution in Morocco.The film was stored in the archives of the CCM, and its state was rather sad and faded.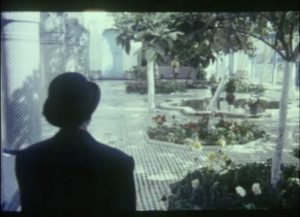 The TMC project has immense pleasure to announce that A Door to the Sky is now stunningly restored, subtitled in English and French again, and digitised. Our partners , Dragon DI, did a beautiful job in professionally restoring the film to its former glory. Project leader Prof. Will Higbee and Dr. Florence Martin are currently in Tangier for the world premiere of the film at the National Film Festival in Morocco this evening (5 March 2020), and yesterday, Will personally handed the copy of the film to Farida Benlyazid.
Farida Benlyazid herself was immensely happy and excited to see the film in its new glory on a small screen yesterday, and tonight she will be able to see it on the big screen, alongside a Moroccan audience, at the National Film Festival.
Restoring this film, digitising, subtitling and making it available to a Moroccan public, festival audiences and a global online audience will hopefully not only revive interest in and access to this key work of (feminist) Moroccan and world cinema but also ensure that a high quality digital copy is preserved in the archives of the CCM for future generations of (Moroccan) researchers, audiences and filmmakers.