Moroccan cinema uncut: local perspectives, transnational dialogues – 4, 5, 6 and 7 December 2016
For the past two decades, Moroccan cinema has emerged as both a viable model for the cinemas of small nations in the Maghrebi region and beyond. This international symposium sought to tease out the various dimensions of its success as well as the challenges faced by Moroccan producers, directors, distributors and policy-makers in the age of digital disruption.
Part of a three-year international collaborative project funded by the Arts and Humanities Research Council (UK), this symposium was organized in association with École Supérieure des Arts Visuels (Marrakesh), the London Film School, The University of Exeter (UK), Goucher College (USA), the Marrakech International Film Festival (Morocco) and the Africa in Motion Film Festival (Edinburgh, UK). In keeping with the aims of the project, it brought together academics, cinema professionals, policy-makers, and critics. It also ran in conjunction with 2016's edition of the International Film Festival in Marrakech (2-10 December 2016). Participants in the symposium were able to gain professional accreditation to the festival, and sessions were programmed to allow maximum access to festival screenings and related activities.
---
Programme: Download daily programmes, or the full programme of the conference here:
---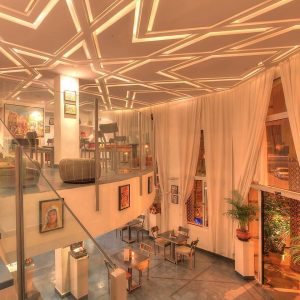 Venue: The conference took place at Café Karma at Amani Hotel, a literary café just around the corner from the main venue of the Marrakech International Film Festival. The conference started on Sunday 4 December, with a full day of panels and keynotes, after which we had half days of presentations on Monday, Tuesday and Wednesday, in order that all delegates could make the most of the festival while in Marrakech in the afternoons.
---
Accreditation: Please sign up for festival accreditation on the festival website. Make sure you have pass photo, passport number and other personal details at hand.
---
Accommodation: the hotel we are using as a basis for the delegates' accommodation is Hotel Amani Appart. All rooms are double or twin rooms, and at single occupancy this comes to 400 Dhs per night, double occupancy is 500 Dhs per night.
The address of the hotel:
QUESTIONS?
We welcome all delegates and interested scholars to contact us with questions or information they might have. You may send any questions to the scientific committee:  w.e.higbee@exeter.ac.uk and fmartin@goucher.edu or, for logistical and other practical issues, get in touch with the organiser: s.e.van-de-peer@exeter.ac.uk. We also welcome questions about participants' practical concerns about travelling to a conference and finding accommodation in Marrakech, Morocco.
Scientific Committee: Professor Will Higbee, Professor Florence Martin, Dr Jamal Bahmad
Organising Committee: Dr Stefanie Van de Peer