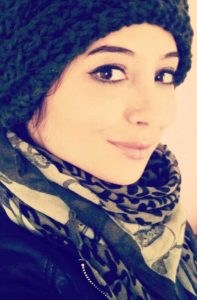 Saïda JANJAGUE, is a young Moroccan filmmaker. She is the second of the two young Moroccan filmmakers who will spend a semester at the London Film School.
Her passion for the moving image led her to the first cinema school of Morocco: ESAV in Marrakech. Here she deepened her theoretical knowledge of the field, but also the practical experience this school offered. During her studies, she discovered a preference for the documentary. Due to workshops with Ateliers Varan, she was able to prove herself and take part in several international festivals (in France and the USA) and she won a prize from TV channel 2M at the International Festival of Student Film in Casablanca. This urged her to undertake more research on the documentary and on writing in the register of direct cinema, with poetic injections throughout the image.
With her degree finished, Saida enjoys a versatile professional career in the service of the moving image. She works as cinematographer and as a camera operator, allowing her to have different experiences and meet new professionals from different corners of the world while planning her own documentary projects.
Her latest achievement in 2016, is a project entitled Nomad Cradle: an adventure set in an arid desert landscape in southern Morocco, where she filmed the hard life led by the nomads of the region. This documentary has the support of 2M and OIF.
Saïda Janjague's profile on Africultures.