Professor Will Higbee (Principal Investigator)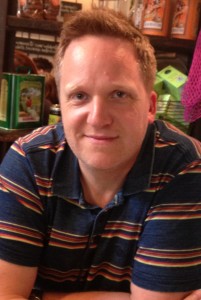 Will Higbee is Professor of Film Studies and French at the University of Exeter. His research interests focus on contemporary French and Francophone cinema, with a particular interest in immigrant, transnational and diasporic cinemas. He is the author of Mathieu Kassovitz (MUP, 2007) and Post-beur cinema: Maghrebi-French and North African émigré filmmaking in France since 2000 (EUP, 2013) and the co-editor (with Sarah Leahy) of Studies in French Cinema: UK Perspectives 1985-2010 (Intellect, 2010) and (with Saer M Ba) De-Westernizing Film Studies (Routledge, 2012). He has published numerous articles on contemporary French and Francophone cinema (with a particular emphasis on filmmakers of Maghrebi origin) in journals including: Studies in French Cinema, Cineaste, Transnational Cinemas, SubStance and French Studies.  He has participated in and been invited to speak at conferences and festivals in New York, Tunis (JCC), Paris, Dublin, Copenhagen and Chicago. He is a member of the advisory board for Studies in French Cinema, having served as an editor for the journal from 2005-2015 and is the co-director of the MA in International Film Business, an innovative collaborative masters programme taught between the University of Exeter and the London Film School.
Email: w.e.higbee@exeter.ac.uk
Flo Martin (International Co-Investigator)

Florence Martin is a Professor of French and Francophone Cinema and Literature at Goucher College, Baltimore, Maryland, USA and on the editorial board of Studies in French Cinema (UK). Her articles and chapters on the cinematic productions of the Maghreb have been published in the United States, the United Kingdom, France, Spain, Tunisia and Egypt. Recent publications include Screens and Veils: Maghrebi Women's Cinema (Bloomington: Indiana University Press, 2011) and two co-edited volumes: one with Patricia Caillé and Kamel Benouanès, — Les Cinémas du Maghreb et leurs publics (Paris: Africultures, 2012); and the other with Guy Austin — French and Francophone Cinema and Contestation, a special issue of Studies in French Cinema (Vol 13. No 3: November 2013). She is currently preparing a co-edited special issue of Studies in French Cinema titled Transnational Crossings: Terrorism and Migration on Maghrebi Screens with Dr. Maria Flood. Being the international co-investigator on the Arts and Humanities Research Council Moroccan project will allow her to focus on Moroccan cinema and issues of gender, and co-author a volume with Prof. Higbee on contemporary Moroccan transnational cinema.
Jamal Bahmad (postdoctoral research fellow)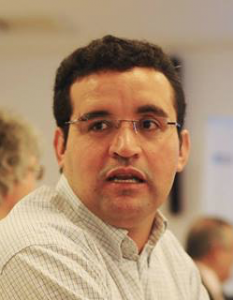 Jamal Bahmad holds a PhD in Film and Postcolonial Cultural Studies from the University of Stirling (UK), awarded in April 2014. His doctoral dissertation examined the politics of neoliberalism, everyday life and postcolonial subjectivity in Moroccan urban cinema since the 1990s. After his PhD he immediately took up a postdoctoral Research Fellow position at Phillips University of Marburg (Germany), joining the Centre for Near and Middle Eastern Studies and working as part of the research network:  "Re-Configurations: History, Remembrance and Transformation Processes in the Middle East and North Africa." In January 2015, he joined the University of Leeds as a British Academy Postdoctoral Fellow based at the School of Languages, Cultures and Societies. His research interests centre principally on North African, Amazigh (Berber) and Francophone culture, cinema, cities, literature, migration and minorities. He specializes and has published widely in North African cultural studies with a focus on cinema, literature, cities, cultural memory and youth subcultures.
Stefanie Van de Peer (postdoctoral research fellow)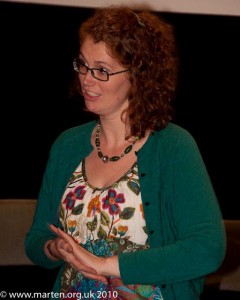 Stefanie Van de Peer's research focuses on political filmmaking by women from North Africa. She has been research fellow at The Five Colleges Women's Studies Research Centre in Massachusetts, at the University of Southampton, the University of St Andrews and the University of Glasgow, for projects on transnational cinema and African and Middle Eastern art. She has also taught global cinema at the University of Stirling. Stefanie specializes in Arab and African cinema by women, both behind and in front of the camera, with a particular interest in transnational feminist solidarity, film festivals and spectatorship.
She has directed and curated specialised programmes for film festivals worldwide, most consistently with Africa in Motion in Edinburgh. She has published articles internationally, e.g. in Film-Philosophy, the Journal of African Cinemas, Middle East Journal of Culture and Communication and Journal for Cultural Research. She has co-edited Art and Trauma in Africa with Lizelle Bisschoff (IB Tauris) and  Film Festivals and the Middle East with Dina Iordanova (St Andrews). An edited collection on animation in the Middle East is out with IB Tauris, and her first  monograph The Pioneering Women of Arab Documentary was published in March 2017 with Edinburgh University Press. She is currently finalising the manuscript for a book on Women in African Cinema (Routledge).
Email: S.E.Van-De-Peer@exeter.ac.uk