This young Marrakchi filmmaker is one of the 2 selected filmmakers who will visit London and the London Film School for a semester, to hone their skills.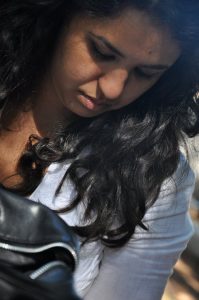 Mahassine El Hachadi is from Marrakech, and a recent graduate of the School of Audiovisual Studies in Toulouse, France, with a Master in Film Directing. During and since her studies she has made numerous short films, both fiction and documentary. She divides her time between production and editing, and between fiction and documentary.
Her films have been selected for numerous international festivals, such as the International Festival of Clermont Ferrand, the International Festival of Francophone Film in Namur, the International Film Festival Vues d'Afrique, the Human Rights Film Festivals in Barcelona / NYC / Paris, and the International Festival of Marrakech.
Her latest short, entitled Postcard, evokes a very sensitive subject: that of the marriage of very young girls in remote villages of the Middle Atlas. This film received the Special Jury Prize at the National Festival of Tangier and the Grand Prize at the Rabat Festival of Short Film.
Profile on Africultures: Mahassine El Hachadi