The Transnational Moroccan Cinema (TMC) project is very proud to have been able to collaborate with the Africa in Motion (AiM) film festival in Scotland to screen films from Morocco and abroad dealing with the disputed Western Sahara territory on screen. The festival's main goal has always been to bring the best of African cinema to UK audiences in a pan-African spirit that looks at both aesthetically beautiful as well as what we call 'necessary', or 'urgent' films. Since its inception, AiM has been committed to programming a diverse range of films from across the African continent, including those from the Maghreb – another reason why the TMC project has been keen to collaborate with the festival. We hope to sponsor a further panel at the festival next year before the project's final symposium at AiM in 2018, which will include a programme of films showcasing the best of contemporary Moroccan cinema curated by the TMC project team.  
At its core, the AiM festival endeavours to open up eyes, minds and dialogues, to ensure that the underrepresentation of Africa on our cinema screens is addressed. This was equally the idea behind the TMC team's organisation of the double bill of a Moroccan epic historical feature and an issue-based activist documentary at AiM 2016 on Sunday 6 November. We screened Al Massira: The Green March (2016) by Youssef Britel in conversation with Iara Lee's Life is Waiting: Referendum and Resistance in Western Sahara (2015). Both films commemorate the landmark event which took place on on 6 November 1975, when 350,000 Moroccan citizens heeded the call of King Hassan II to march into Western Sahara to reclaim it from the Spanish coloniser, and the 41 years of conflict and stalemate since then. These are two diametrically opposed films, and the idea behind programming them together was precisely to show both sides of the question and to enable a dialogue between the films and audiences.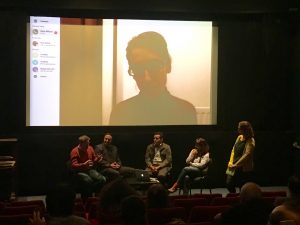 The screening of both films together followed by a panel of experts allowed the audience to get fresh insights into the questions addressed by Al Massira and Life is Waiting. The panel included professor Noé Mendelle, documentary filmmaker who has worked in Western Sahara on her film Al Khadra: Poet of the Desert (2012) and director of Scottish Documentary Institute; Will Higbee, Professor of Film Studies at the University of Exeter and Principal Investigator of the TMC project; Ali Bahaijoub, author of Western Sahara Conflict (2010) and Vice-Chair of the British-Moroccan Society; Alice Wilson, a lecturer in Social Anthropology at the University of Sussex and author of Sovereignty in Exile: A Saharan Liberation Movement Governs (2016); and Jamal Bahmad, TMC Postdoctoral Fellow specialising in contemporary Moroccan film cultures.
As Al Massira shows, in an epic historical frame, Moroccans forced the Spanish to leave Western Sahara without engaging all parts of Sahrawi society. Life is Waiting, a documentary about 41 years of conflict and stalled negotiations, shows the devastating aftermath of conflict and disputes over land in a post-colonial context. Both films carry partisan elements, but they speak directly to each other and work together to enable a conversation between the different sides of the story.
It is worth noting that the Sahara question has started to generate an increasing number of (mostly documentary) films in Morocco and overseas in recent years. However, as the panel discussion after the screenings showed, for a variety of reasons and due to the highly complex and charged nature of the Western Sahara debate, Moroccan filmmakers have tended to focus their attention on other contemporary socio-political issues, away from the Western Sahara. Nevertheless, as the TMC panel indicated, this is an issue worth following and questioning on screen, and a necessary dialogue needs to continue between all sides in debates such as the one held at the Africa in Motion Film Festival.
Jamal Bahmad, Will Higbee, and Stefanie Van de Peer