The 15th edition of the International Festival in Marrakech was rich in tributes to international stars (US Bill Murray, Bollywood star Madhuri Dixit, Korean director Park Chan-Wook, actor Willem Dafoe, as well as Moroccan director of photography Kamal Derkaoui) and to Canadian cinema. With a wide choice of films from India to Mexico, from Kazakhstan to the Ivory Coast, the festival showcased a wide international array of films, with the screening – off competition – of only six long features out of eighty-five from Morocco (and a seventh, Black, by Moroccan directors Adil El Arbi and Billal Fallah, funded by Belgium).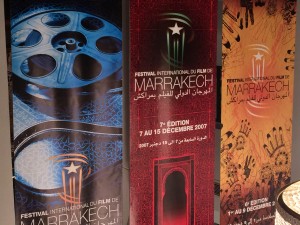 Two among the latter were greeted with thunderous applause: La Isla (Ahmed Boulane, Morocco and Spain, 2015) and La Marche verte (Youssef Britel, Morocco, 2015). The former's narrative, a comic spin on Robinson Crusoe in today's Mediterranean, features a famous comedian in Morocco, Abdellah Ferkous, whose mere appearance on screen triggered an enthusiastic welcome from the audience. Based on the 2002 territorial dispute over the tiny island of Perejil, this comedy tells two tales: the first one focuses on an ordinary policeman, Ibrahim, sent on a mission to monitor the moves of migrants from Africa on a tiny desert island in the Mediterranean near Tangier. One day, Ibrahim finds African migrant Mamadou (Issa N'Diaye) just as Robinson his Friday. The second one is the story of a brewing international conflict. As soon as Ibrahim hoists his Moroccan flag (to the enthusiastic applause of the audience in the Palais des Congrès in Marrakech), the Spanish Bureau, even the American one, start fretting about what they see as an abrupt take-over of the island by Morocco.
The second film, La Marche verte, relates Hassan II's historic call to the Moroccan people on October 16 1975 to "reclaim the provinces of the South" (aka Western Sahara). It then follows the 350,000 volunteers who boarded trucks in all the provinces of Morocco, headed south and crossed the border into a territory controlled at the time by Spain. The only army shown on screen is the Spanish troops who, upon seeing civilians (especially women and children), do not shoot. The film shows no real visible presence of the Moroccan Royal Armed Forces and suggests that the Green March was completely peaceful. Here again, many in the Palais des Congrès applauded with gusto, as they watched the massive crowd walk across the Southern border, the flag of the kingdom flying high.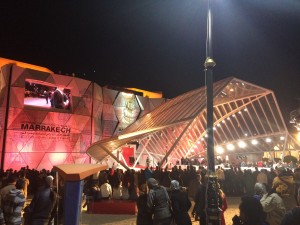 The wild clapping and cheering from certain sections of the audience thus welcomed a similar message delivered along two distinct modes (a popular comedy vs. a national epic): in these times of uncertainty, the Kingdom's vigilance continues to protect its borders against all outside threats.
Florence Martin