Karyan Bollywood is Yassine Fennane's first feature film, after several shorts (Petite blessure / Tiny wound, 2002; Danger man, The Future Is Now, Chemise blanche, cravate noire, and Trust fighter, 2004) and three films for TV for the Film Industry/Made in Morocco project under Nabil Ayouch as well as a series, Une Heure en enfer, co-authored with Eli El Mejboud for the Al Aoula channel in Morocco. The film received the Prix de la première oeuvre (First film award) at the 2015 National Film Festival in Tangiers.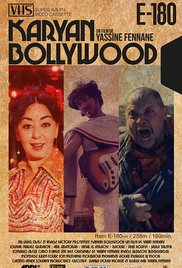 At first, Karyan Bollywood can be seen as a filmic illustration of Salman Rushdie's "chutnification": his flavorful image to describe a post-colonial cultural state of hybridity would thus be transposed to a Moroccan film. Casablanca's discontents and dreams = Mumbai's. The narrative circles around a Bollywood classic, in both form and content, the dream of the singing and dancing hero forever paralleled and contrasted with the rank reality of the slums outside Casablanca.
The protagonist is obsessed with the 1982 film Disco Dancer (by Babbar Subhash, India) that his now deceased projectionist father showed him when he was a kid, a film that, his father said, contains the answers to all questions. Jimmy adopts the name and dress of its hero, his bedroom is an altar to Bollywood and disco, he lives in a state of arrested development that starts and stops with Disco Dancer. Of course, he is in love with Mouna, the dream girl who lives on the other side of the tracks, and whose bourgeois demeanor rubs up his pal, Houda, the wrong way. In order to get to her, the dazzled thirty-year old dreamer decides to shoot a remake of Dirty Dancer with a "borrowed" IPhone, in the slums. The destruction of the latter is imminent, under the harsh command of a cruel villain: Barkour (who turns out to be Houda's father, the exact opposite of Jimmy's father: he is alive, and abandoned Houda and his mother while Jimmy's father, like a benevolent ancestor, may be dead but still haunts his son in a caring fashion).
The film is a mix of comedy and fantasy (the viewer is presented with Jimmy's dreamscape at all times), a comedy and a satirical comment on the "people at the margins" as Yassine Fennane is fond of saying, caught between abject poverty and the destruction of home. Change is not easy: neither for Jimmy who has to grow up, nor for the slum dwellers afraid of an even greater economic hardship if they move out. Similarly, cinema may help (Jimmy's father, the projectionist, finds meaning in film; the slum dwellers finally see themselves on screen at the end of the film) but ultimately does not (it repeats a dreamscape in a loop without changing a thing). The homage to Bollywood (Indian films have been shown forever in Morocco), like a distorting mirror, provides a sliver of escape before it turns back to not even neo-realism but hyper-realism in its depiction of the Casablanca outcasts.
Florence Martin